Chinese Boxing - Jeet Kune Do Lineage
Steven is currently under the direction of Sifu Tim Tackett, Sifu Jeremy Lynch and Sifu Kai Li.
Sifu Tim Tackett is the founder of the Jeet Kune Do Wednesday Night Group in Redlands, California and began his Jeet Kune Do training in 1971 in Sifu Dan Inosanto's Backyard school (while Sijo Bruce Lee was still alive). The Wednesday Night Group was also lucky to have two original students of Sijo Bruce as part of the group, Sifu Bob Bremer and Sifu Jim Sewell who were both students in Bruce Lee's Los Angeles Chinatown school and have had a big impact on the flavor of Jeet Kune Do taught in the group. Steven considers Sifu Tackett to be his primary teacher who's had the most influence in his Jeet Kune Do.
Sifu Jeremy Lynch began training with Sifu Tim Tackett, Sifu Bob Bremer, Sifu Jim Sewell and Sifu Dennis Blue in Jeet Kune Do in 1991 as part of Sifu Tim Tackett's garage group in Redlands, California. He is a Senior Full Instructor under the JKD Wednesday Night Group and is the head instructor of Sifu Tackett's "garage gym" in Redlands and teaches privately in Yucaipa, California.
Sifu Kai Li has a broad range of training in Jeet Kune Do and is a Master Instructor under Sifu Richard Bustillo, a first generation student of Bruce Lee. He is also a Full Instructor under Sifu Burton Richardson (an instructor under Sifu Dan Inosanto) and Sifu Paul Vunak. Sifu Kai is also an instructor of Wing Chun Do - a system developed by Sijo James DeMile (one of the first students of Sijo Bruce Lee in Seattle, Washington). Sifu Kai is a friend and a trusted advisor to our group.
Steven has also trained extensively with Sifu Paul Vunak in "Contemporary Jeet Kune Do / JKD Concepts". He also trained in "Modern Gung Fu Concepts" under Michael Low who taught an off-shoot of principles taught by some Bruce Lee's original students, while he spent less than 18-months here the training process made a big impression and has carried over into the Non-Classical Chinese Boxing curriculum.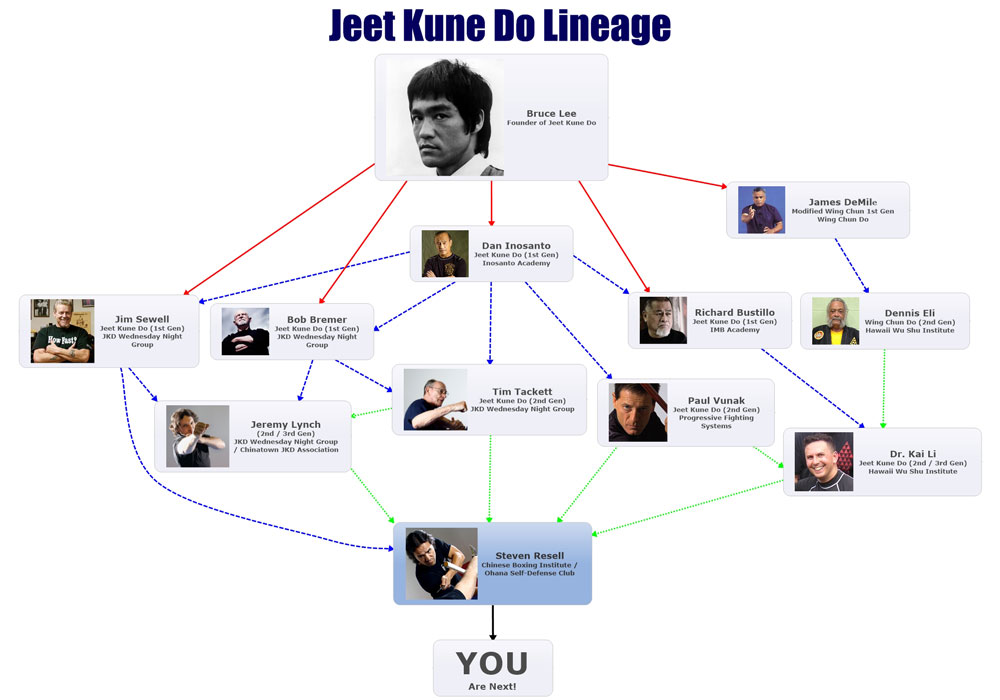 Chinese Boxing - Kempo Lineage
Steven began his studies in Chinese Kempo Karate with Professor Sam Estrada in 1991.
Professor Sam began his studies in American Kenpo Karate in 1964 under the late Grandmaster Ed Parker and received his 1st Degree Black Belt in 1971. He was an instructor at GM Ed Parker's school in West Los Angeles in the 70s, but left his organization in 1977 as a 4th Degree Black Belt.
That same year he began his studies with Sifu John Yee in Richmond, California. Sifu Yee was a teacher of Sil Lum Gung Fu. It was Sifu Yee who encouraged Professor Sam to seek out GM Ed Parker's instructor, Professor William Kwai Sun Chow - the founder of modern Kenpo Karate (most Kenpo / Kempo Karate with lineage to Hawaii can trace their roots to Professor Chow).
Sifu Yee is also the one who provided the introduction for Sam to train with Professor William Chow in December of 1977. Professor Sam traveled to Hawaii to train with Professor Chow until 1980. Approximately 1993, Sam began traveling to Hawaii to seek out the last students of Professor Chow and began his training with Master Jacob Cheung and Walter Liu (Jacob and Walter were the last students of the Professor). He continued to travel to Hawaii until 1999 when Master Jacob and Walter decided to stop teaching Professor Chow's Kempo.
Professor Kai Li also serves as an instructor, mentor and an advisor to Sifu Steven in Kajukenbo and Danzan Ryu Jujutsu. Professor Kai has spent most of his life training in these systems and holds the rank of Professor in each art. He also serves as the Vice-President of the American Jujitsu Institute (the oldest martial arts organization in the United States); and is also an Olohe in Royal Hawaiian Lua (the indigenous martial arts of the Hawaiian Islands).
All of these arts have ties to Professor Chow and his Kempo, and Steven continues his studies in these arts to pay homage to his teachers and lineage.
The Non-Classical Chinese Boxing curriculum includes many of the principles and techniques taught in these arts, particularly in regards to the self-defense techniques (and how they are trained).